A dramatic scene unfolded today as a new mother hippopotamus introduced her calf into a hippopotamus pod on the African savannah. Chaos erupted as other hippos aggressively circled the mother and her calf, threatening to attack.
However, the mother hippo refused to back down, and instead fought back fiercely to protect her young one. She used her massive body to shield the calf from the other hippos and charged at any animal that came too close. The conflict lasted for several minutes until the other hippos finally backed off.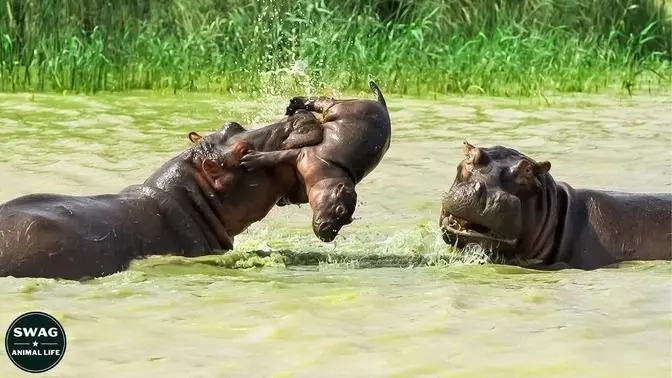 Witnesses reported that the mother hippo showed remarkable bravery and determination throughout the ordeal. Her actions were a testament to the strength and devotion of motherhood in the animal kingdom.
The calf appeared unharmed, and both mother and baby are now safely integrated into the pod. This serves as a reminder of the importance of protecting and preserving the natural habitats of these magnificent animals, which play a vital role in maintaining the balance of their ecosystem.